June 22nd is the Dragon Boat Festival. On that day, Baoshan Binjiang Park was packed with people, lively and extraordinary. Under the guidance of the Shanghai Pet Care Working Group, the Shanghai 3rd Pet Care Carnival, co-hosted by Baoshan District New Era Civilization Practice Center and other units, kicked off.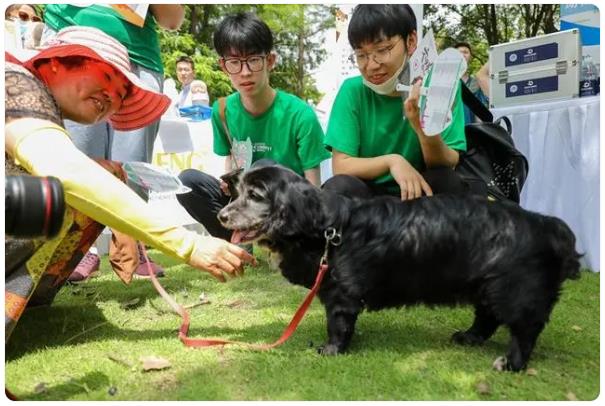 Citizens gathered here with their pets. The pet market was full of various items, impressive police dog demonstrations, delicious pet meat dumplings, and Baoshan's intangible cultural heritage, which added fun, liveliness, deliciousness, and civilization to the entire market. During the event, the organizers released the "Shanghai Pet Care Three-Year Action Key Work Task Book (2023-2025)" jointly issued by 11 municipal bureaus, including Shanghai Public Security Bureau, Municipal Civilization Office, Municipal Internet Information Office, Municipal Education Commission, Municipal Agriculture and Rural Affairs Commission, Municipal Health Commission, Urban Management and Law Enforcement Bureau, Municipal Market Supervision Bureau, Municipal Civil Affairs Bureau, Municipal Housing Management Bureau, Municipal Greening and Urban Management Bureau.
The document proposed seven aspects for the next stage of pet care work, including strengthening institutional construction, improving governance systems, enhancing systematic governance, enforcing strict law enforcement, encouraging social self-governance, strengthening disease testing, building an epidemic prevention barrier, enhancing publicity and education, creating a good atmosphere, deepening civilization creation, improving cultural qualities, integrating social resources, and forming positive incentives. This aims to continuously improve the refinement level of pet care management, better consolidate the consensus of civilized pet care in the whole society, effectively prevent various public health and public security risks, vigorously create a harmonious coexistence between humans and nature, and continuously improve the cultural quality and civilization level of the citizens. In recent years, Baoshan District has been promoting the "Civilized Pet Care, Shared Public Space" project, forming a good situation of "1+3+18" civilized pet care (issuing a civilized pet care promotional manual, creating three civilized pet care demonstration communities, and establishing 18 civilized pet care volunteer service teams in residential areas and villages).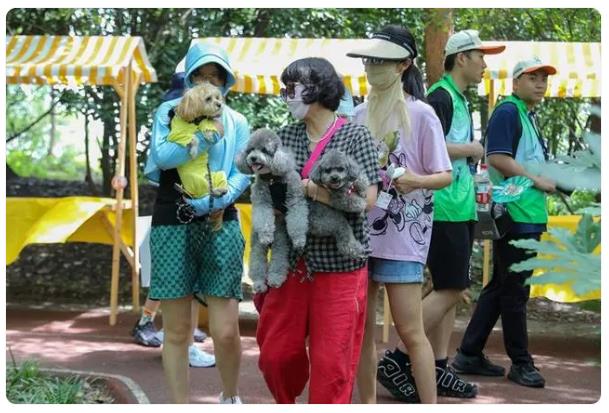 Next, Baoshan will take this pet care carnival as a new starting point, focusing on the theme of "green, low-carbon, and beautiful life." It will concentrate on civilized pet care, adhere to problem-oriented and demand-oriented approaches, persist in long-term effectiveness, and jointly establish a Shanghai urban refined management and civilized pet care demonstration station combining Cat Island Coffee, Silent Barista Training, civilized pet care promotion, and pet socialization. This will make new contributions to the construction of the "One River, One Park" civilization practice site in Baoshan District and the creation of a comprehensive site group of "Civilization Practice Center-Civilization Practice Riverside-Binjiang Park," injecting new functional connotations and contributing to the construction of Baoshan District as a model area for green, low-carbon transformation.
At the same time, according to the requirements of the "Shanghai Pet Care Three-Year Action Key Work Task Book (2023-2025)," in order to incentivize citizens to develop good habits of civilized pet care and encourage their participation in pet care public welfare activities, the Shanghai Civilized Pet Care Public Welfare Passport made its debut.
This innovative model, jointly launched by the Shanghai Yicai Feiyang Public Welfare Foundation, the Alachong Public Welfare Platform, and several caring enterprises, aims to allow citizens to exchange corresponding rights and items by participating in civilized pet care public welfare activities, making every pet owner a promoter, demonstrator, and supervisor of civilized pet care.
The public welfare passport first promotes the 1 yuan stray cat neutering public welfare project. Citizens can enjoy 1 yuan stray cat neutering surgery by logging into the Alachong Public Welfare Platform. 30 pet clinics in 16 districts of the city will undertake this 1 yuan stray cat neutering public welfare project.
Source: Wenhui Daily Author: Ye Chenliang,Traslated by ShanghaiTraveller AI